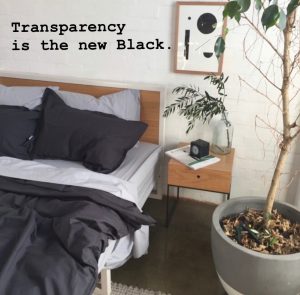 GONE ARE THE DAYS YOU COULD GET AWAY WITH CLEVER MARKETING TO CONVINCE CUSTOMERS TO BUY YOUR PRODUCT.  CONSUMERS WANT TO KNOW WHO, WHAT, WHERE AND HOW YOUR PRODUCT CAME TO BE AND IF IT HAS ANY NEGATIVE IMPACT ON THE ENVIRONMENT AND BOY ARE BIG BUSINESS GETTING ON BOARD.
Global brands such as Everlane are a great example of their mantra being ''Exception Quality, Ethical Factories. Radical Transparency.''  They believe they can make a difference by using ethical factories, sourcing quality materials that will last,  and even breaking down the costs of each item and sharing the story to the consumer. Recently Country Road launched a Marino Wool campaign and teamed up with Oritain, the forensic fingerprint specialists. 
Oritain can DNA test your product and tell you exactly where it came from.  Guaranteeing your authenticity and eliminating any chance of counterfeitingHow refreshing that big companies are taking responsibility for what they are producing.  Consumers really resonate with the heritage of a brand and the story of why and how they started.
When Feyre Home was just an idea we had a certain criterion that we needed to tick. Our previous experience dealing with department stores was disappointing so we decided to do things our way. The first one was to care.
It was not all about the numbers on the spreadsheet.  Not saying we were careless; we just wanted to have a high-quality product and add as much detail as we could.  When dealing with Department Stores adding details are the first thing to get cut when you have to make a product to a price.
Details like our Top and Bottom labels on the Fitted sheet, extra-thick elastic, spare buttons on the Duvet's inner label and Internal ties so you can attach your Doona to it and keep it in place. We didn't want our bedlinen suffocating in plastic either, so we designed a beautiful gift box made from recycled materials and fully recyclable.
We needed to source the best quality cotton in the world and we were prepared to pay top dollar for it.  We originally believed Egyptian Cotton was the best but found there was not enough transparency behind it, following the scandal involving leading manufacturer Welspun who labeled their product to Target USA as Egyptian Cotton but was far from it.
I then discovered that any cotton grown in Egypt can be labeled and marketed as Egyptian, even the worst grade of cotton.  No accountability, no transparency - no Feyre Home. Supima Cotton provided everything we wanted.  Supima is a not for profit organization. 
Their job is to protect the Supima brand on behalf of the Farmers that grow it. Supima's name means Superior Pima Cotton and can only be grown in certain areas of the USA. It's rare and equates to 1% of the Global Cotton production.  It is the extra-long-staple cotton fibers which is what makes the cotton stronger, softer and keeps your colours more vibrant for longer.
Our entire supply chain has to be licensed to Supima to ensure authenticity. This meant we could only use 3 manufacturers in all of Asia to make our Bedlinen. Because of Supima's partnership with Oritain- the forensic fingerprint specialists, we could guarantee we were paying for and receiving authentic Supima Cotton. Once our samples were made, we sent them over to the Supima head office in the USA for DNA testing. 
Oritain take samples of the soil and the surrounding environment where the Supima Cotton is grown, and this allows them to pinpoint the exact place the cotton was grown. There is a saying we have at Feyre Home, ''We know where our cotton comes from, do you? We at Feyre Home are happy that 'transparency is the new black' because that is who we are.